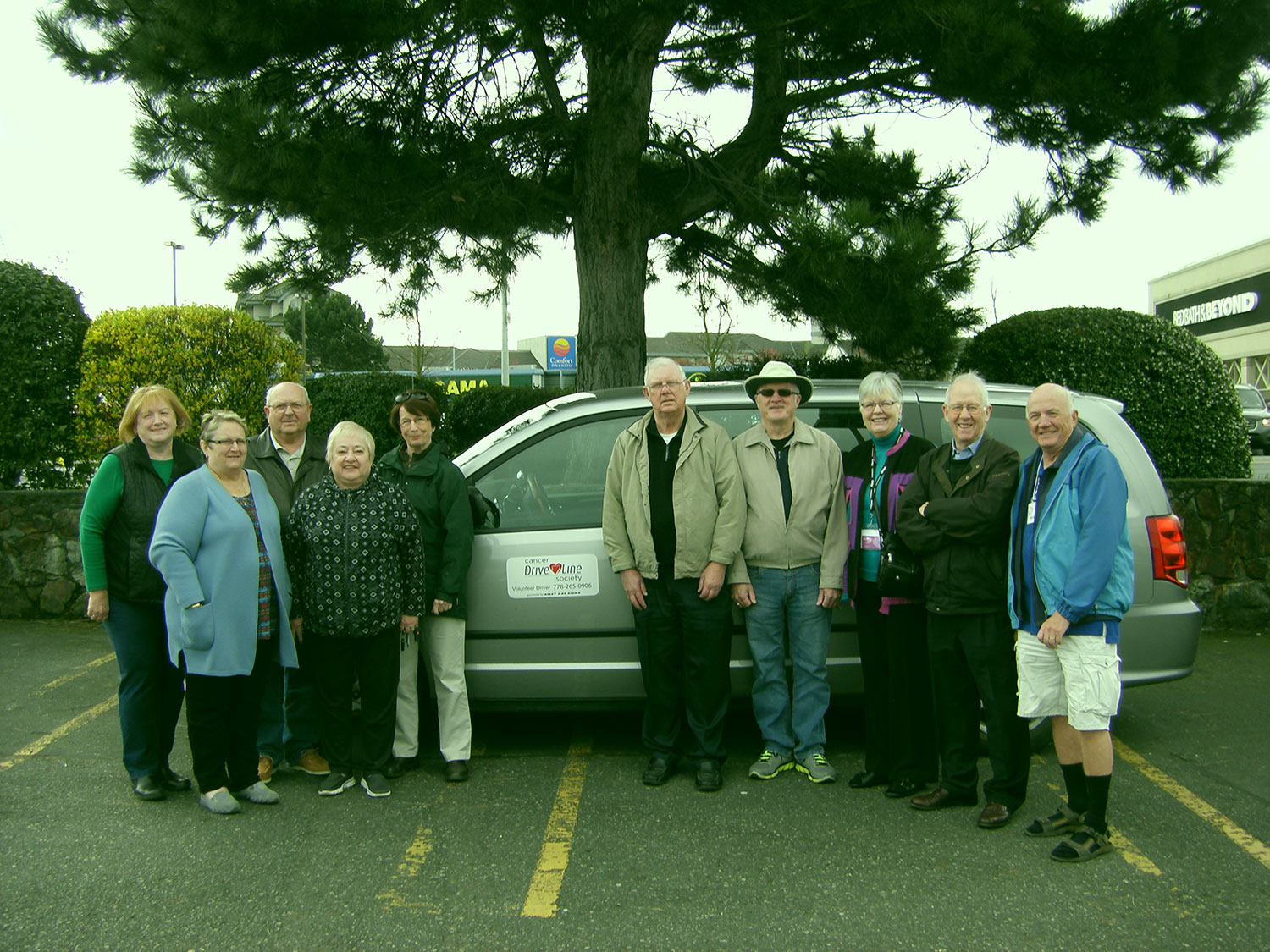 Reliable & Free Transportation for Cancer Patients
Patron – Mr Ernie Skinner
Mission Statement
To provide free, safe and compassionate transport to patients receiving any form of cancer assessment, treatment or surgery or remedial procedures, who live or are staying within the thirteen municipalities of Southern Vancouver Island.
Who are we and what do we do?
We are a group of experienced volunteers offering a free transportation program to cancer patients. The majority of us had participated in a Volunteer Driving Program operated by a national cancer society, which had been around in excess of twenty years. This Program, , affecting British Columbia as a whole, was suddenly dropped in early October 2015, leaving both volunteers and patients in limbo.
Undeterred, this group of volunteers formed a new Society, Cancer DriveLine Society, and continue to offer transport to cancer patients throughout Southern Vancouver Island.
How does it work?
Cancer patients are generally referred to the Cancer Agency Clinic where they are given advice on service's available to them during their treatment process. Amongst these services is advice on methods of travelling to and from treatment centers, and Cancer DriveLine is one of those options.
We are able to offer free rides to any cancer patient living or residing within the thirteen municipalities of Southern Vancouver Island (not sure if this applies to you? – see list below). Where ever possible, we advise patients to travel to treatment with a family member, friend or relative – continuity of companionship after treatment is always important and not generally available after the Volunteer Driver Program is over. However, there are many reasons when this is not possible – patients may have no family close at hand or available, they may live alone, do not have access to a vehicle, are too sick to travel unaccompanied or any number of other reasons. This is when Cancer DriveLine is able to help.
Providing the patient is either in the process of diagnosis or assessment for cancer, is undergoing existing cancer treatment or surgery, or is referred for post-cancer remedial procedures, we can offer the patient free transport. This includes travel for blood work and specialist doctor visits, and includes the ability for the patient to be accompanied by a carer. We regret we are unable to facilitate the transport of children.
The next step?
Once a patient knows dates and times of upcoming treatments, they or their family member can call our dispatch office, which is manned from 8:30am to 4:30pm, Monday to Friday. The Dispatcher will log all the relevant but non intrusive details and make arrangements with one of our volunteers drivers to collect the client on the day of their treatment. The afternoon prior to the appointment, the patient will receive a call from the duty Dispatcher reminding them of their appointment, and telling them the name of their driver and the time they we will be collected the next day. Within the city area we normally allow a thirty minute travel time, but this may be longer depending on the location and time of day. At the appointed time the driver will arrive for the patient, drive them to their treatment center, wait and then return the client home after treatment. Our drivers will not enter the clients home and are unable to assist clients who have difficulty with mobility. Our drivers usually are able to carry fold-up walkers in their vehicles, but unable to carry wheelchairs. The latter are always available at the Cancer Agency Clinic for patient use.
We do ask clients to give us as much notice of their appointment dates and times as possible, and under normal circumstances there is a minimum requirement notice of twenty four hours. In exceptional circumstances, we may be able to assist with a ride with shorter notice. It remains the responsibility of the client to notify Cancer DriveLine of additional appointments or time changes to existing appointments – BC Cancer Agency does not divulge patient information of any kind to the Society.
We operate in conjunction with Angel Flight, who fly patients in free from up Island and the Gulf Islands, and will meet patients arriving at Swartz Bay Ferry Terminal or Victoria International Airport.
Thirteen municipalities are as follows: Victoria, Oak Bay, Esquimalt, Saanich, Central Saanich, North Saanich, Sidney, Colwood, Langford, Highlands, View Royal, Metchosin and Sooke.
2018 Open Mixed Double Darts Tournament
Many thanks once again to Kim and Nicole for hosting a hugely successful 3rd annual Mixed Darts Tournament. A really great crowd of participants and supporters who were extremely generous in supporting both Cancer DriveLine and the Young Darts Players. Our Society received $2500 as a result of this highly successful event and we look forward to next year.
Special thanks to all the individuals and companies that sponsored individual dartboards.
They were:
| | |
| --- | --- |
| Victoria Cruiseship Center | Fairfield Petro |
| Firm Management | Esquimalt Plaza Dry Cleaning |
| Irwin Industries | Island Batteries |
| Montebello Woodworking | Nanuq Law |
| Peacock Billiards | Quadra Building Maintenance Ltd |
| The Beagle Pub​ | Christine Tait |
| Lynn Harvey | Judith Cameron​ |
| Nicole Jackson​ | Kirk Ness |
| Kim Bates​ | |
We ​hope to see you all again in 2019!
More volunteer drivers needed
We appear to be the victims of our own success – calls on our service have reached a new high and we are busier than ever. Consequently, we need more volunteer drivers who live in and around Downtown Victoria, as well as one more permanent dispatcher. These volunteer positions are very rewarding, meeting and talking to new people , as well as knowing that you are really physically helping cancer patients on their difficult journey. Find out more – give us a call now on 778-265-0906.
2018 Statistics
More that 800 individual clients assisted to date. Seventy five volunteers have donated more than 12,400 hours. Drivers have carried out some 11,800 trips, covering over 206,700 kms. Thank you all for your dedication and commitment.
Donations
Cancer DriveLine Society is run entirely by volunteers – there are no paid members of staff. We pay our volunteer drivers a contribution towards the cost of running their vehicles – there is a cost involved in office rent, telephones etc., so donations from members of the public, businesses and clients are our lifeblood. Donations can me made using your Credit Card by pressing the DONATE button on the front page of this site. We are happy to receive checks mailed to our office, and our drivers carry donation envelopes with them should anyone wish to make cash donations. Cancer DriveLine is a registered charity and tax receipts will be issued for all donations of $25.00 and over
If you are about to make a donation, please be assured that your hard earned dollars will help alleviate stress and anxiety for cancer patients making their difficult journey coping with their illness. Our volunteers are there, not only to act as their driver, but as moral support and companionship before and after their treatment.
"We are here to empathize, not sympathize – to listen but not advise"
Privacy policy
Any personal information you provide is managed according to the British Columbia Personal Information Protection Act (PIPA). This means that, at the point of collection, you will be informed that your personal information is being collected, the purpose for which it is being collected, and that you have a right of access to the collected information. If you have questions regarding Personal Information Protection, please email: cancerdriveline@gmail.com