Cancer DriveLine Society Directors
Harry Nykiel
President
Harry retired to Victoria in 2010 after spending his entire adult working life in Alberta in the oil industry in Marketing and Managerial responsibilities. He has always been associated with and enjoyed the 'people side' of business organizations. He has volunteered for over 20 years with several not-for-profit organizations in various capacities, mostly in financial disciplines. Shortly after arriving in Victoria he started volunteer driving, continues to do so, and the opportunity to serve as Director for Cancer Driveline is an extension of his past volunteering and business experiences.
He especially enjoys the interface with the clients he is helping out, providing much personal satisfaction in the process.
Francine Buck
Director
Francine grew up in Montreal and is fluent in French and English. At an early age she moved to California where she met her husband and had her daughter. She then moved to Utah where she owned and operated a child day care at the Park City ski area, then onto Jasper (Firehall & retail), Banff (retail), Lake Louise (customer service) and the Okanagan where she had a Bed and Breakfast. She volunteered at an orphanage in the Philippines for a month twice. When she retired she moved to Victoria to be close to her family. After losing her husband to cancer she started driving for the Cancer Society, transitioning to CDLS when it first started in 2015 and she has been with them ever since. Francine loves theater, music, hiking, all racquet sports, reading (a must for drivers) and a good glass of wine!
Bill Shortreed
Treasurer
Bill came to Victoria in 1974 to attend university and has lived here pretty much ever since, with brief forays to Seattle and Beijing, where he concluded that Victoria was best. Bill has spent most of his career working in the public service in IT and finance. He tried retiring in 2015 but got bored, and now splits his time between driving and part-time IT consulting. Outside of work, Bill enjoys woodworking, cycling, kayaking, scuba-diving, travelling, playing the piano (badly) and playing ice hockey (even worse).
Bill is currently a driver and a director for Cancer Driveline, and really enjoys providing safe reliable transportation for cancer patients.
Mary Pollon
Director
Mary was born and raised in Vancouver, BC. Worked for BCTel/Telus for thirty years in a variety of positions and in various locations. Most of her time was spent in Victoria in the Human Resources Department. She retired in 2002 and has since spent a great deal of her time volunteering for local charities, including Cancer DriveLine, where she participates both as a driver and Dispatcher. She is currently the coordinator for the TELUS Ambassadors, where she sources various charities looking for volunteers.
Ken Decterow
Client Representative
Rod Fimrite
Director
Rod and his wife of 58 years, Katherine, enjoy life on the Saanich Peninsula, which they consider to be the best part of the best province in the best country in the world.
Rod spent 21 years as a banker with CIBC, and he and Kathy lived in 18 homes in three provinces before moving here in 1987, and have now lived in their present home longer than in the other 18 combined!
Rod and Kathy incorporated Firm Management Corporation in 1993 to manage strata corporations and commercial property. They were joined by their eldest son Dennis in 1995, and he now manages the company and its 40 employees.
Rod still works part time, but he enjoys golf, and he and Kathy enjoy travel, and do a lot of it.
Rod has been a volunteer driver for Cancer DriveLine for the past two years, and enjoys the social interaction with the patients. Their positive attitudes are an inspiration. Rod recently joined the Board of Directors of Cancer Driveline, and looks forward to continuing fund raising activities for the Society.
Linda Lytle
Director
Linda was born and raised in Winnipeg, went to University and started teaching in Calgary, moved to Halifax after marriage and had both a son and daughter there – "Bluenosers". The family moved back to Calgary when the kids were small, and Linda had a rewarding career with the Calgary Board of Education as a teacher and school administrator. She and her husband moved to Victoria in 2012 where they have enjoyed retirement – made even better by the fact that both their son and daughter live here too. Linda loves to travel, to walk, to bicycle, to garden, and to cook. She and Peter have taken a few trips around and across North America in their small motorhome and they are both happiest when on the road. Linda has enjoyed her involvement with the CDL as a part time dispatcher, and is looking forward to the new role of Director.
Natasha Chen
Director
Natasha was born and raised in Victoria, BC. She has her Bachelor of Commerce from UVic (with distinction), and has Masters Certificates in Business Analysis and Project Management. She also holds designations as a Project Management Professional (PMP) and Projects in a Controlled Environment (PRINCE2). Natasha is the Director of Property Information at BC Assessment working with stakeholders from different sectors of government and industries on data licensing and improving the user experience of BC Assessment web services. Outside of work, Natasha enjoys travelling, spending time with friends & family, exercising, and spending time with her Olde English Bulldog Bentley.
Nancy Troger
Secretary
Nancy was born in Flin Flon, Manitoba and moved to the Island as a young child. She started her career with BC Tel in Vancouver but just prior to retirement, she and her husband were fortunate enough to get transferred back "home" to Victoria. Since her retirement, Nancy has been involved with a variety of non-profit organizations, namely; TELUS Pioneers/Ambassadors, Living and Learning Through Loss, Piers Island Association, Piers Island Improvement District, Special Olympics and Cancer DriveLine. When not volunteering, Nancy loves spending time with her sister's four grandchildren, bike riding the trails around Greater Victoria and the Cowichan Valley, kayaking, reading, attending plays and storm watching on Dallas Road.
Judith Cameron
2015 – 2020
Bruce Hogarth
2018 – 2020
Terry Wharton
2016 – 2018
Andrew Castellucio
2016 – 2017
Janet Davies 1955 – 2019 RIP
2015 – 2016
Nela Oliveira-Griffiths
2015 – 2016
Gus de Jardin – Director
2015 – 2016
Tom Lott
Tom, and his lovely wife, Marie, have been volunteer drivers for Cancer DriveLine since inception, and prior to that with Canadian Cancer Society. Living in Sooke, Tom is one of only three drivers currently living out there and who continues to serve the Sooke community on our behalf and others
We were delighted when, a few months back, we were approached and asked if we would co-sponsor Tom for a special Volunteer Honor, to be presented by Governor General Julie Payette.
The ceremony took place at Government House in Victoria on 21st March.
We are all extremely proud of Tom's achievements and his continued support of Cancer DriveLine.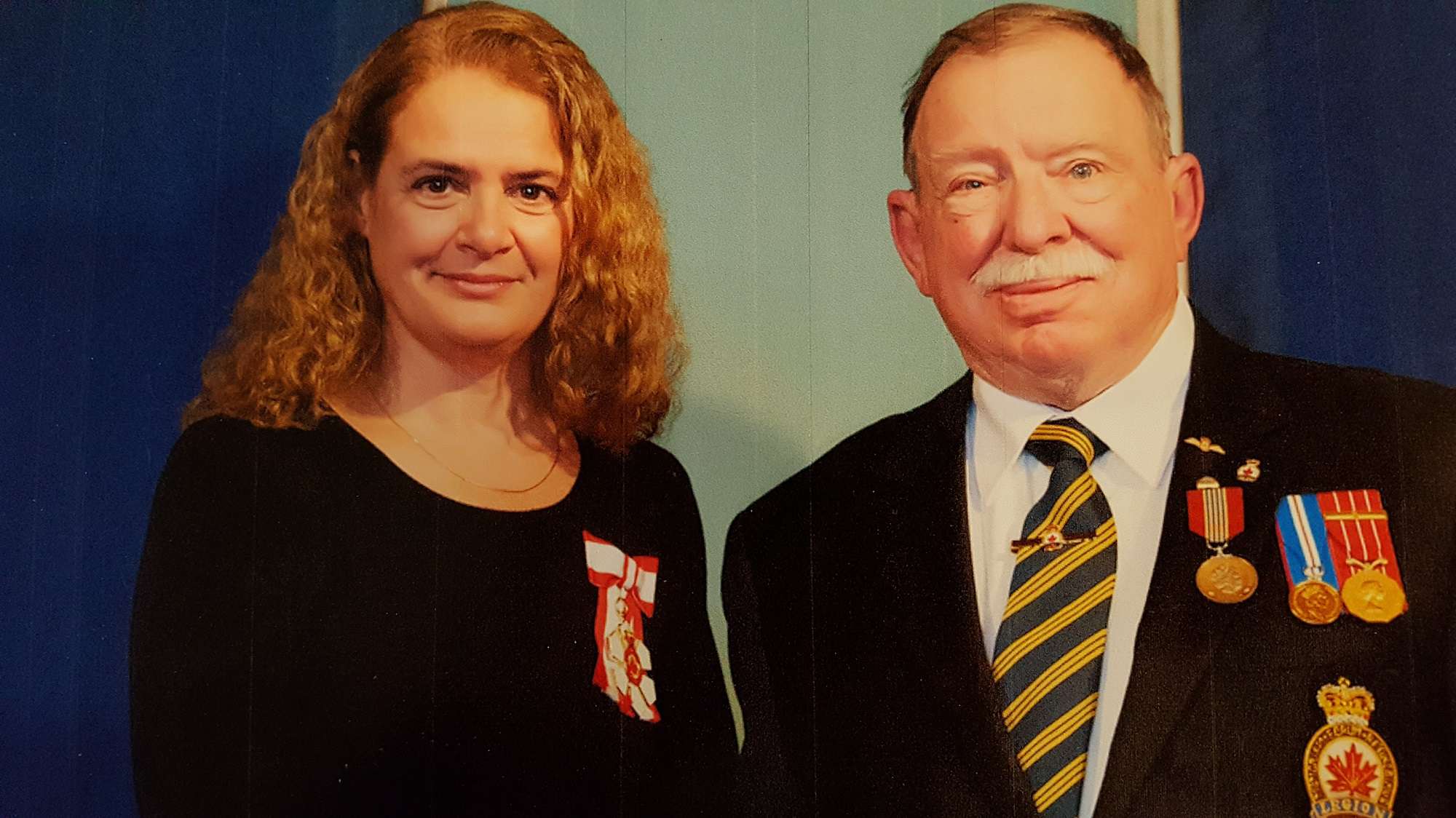 Cancer Patient Bio – JK –
J. is one of our star clients. Besides generously sharing her story about using the volunteers drivers in media press coverage, she is an absolute example for anyone striving to overcome adversity.
Having emigrated to Canada at the age of 10 from the UK, she landed in Victoria in 1999. Adversity affected J from the start of her life, due to her premature birth which resulted in permanent vision loss.
While raising her 2 children as a single parent, she completed a course at Camosun College in Office Administrative Technology, worked in libraries and customer service, and then worked 10 years for private company with a government contract finding jobs for people; ironically she then was laid off and found herself unemployed for the past 3 years. She is happy her 2 adult children both live in Victoria. Since her diagnosis, J. won't allow any negative comments around her, insisting on only positive conversation.
January 2015, she noticed that her yellow lab Fido began sniffing her in a concerned way repeatedly. Although tests were all normal, J. felt there was something wrong and further tests resulted in a diagnosis of endometrial cancer in March. Surgery followed in April, chemotherapy in July and August, and daily radiation for 5 weeks in September-October. Volunteer drivers got J. to her treatments throughout these 3 months. She found that other options could not accommodate her, e.g. only able to take her once a week, stating she was not in their catchment area, or could not be relied upon to arrive on time for her appointment nor be able to wait if treatment was held up, thereby stranding her. The previous volunteer program volunteer drivers, who are now the Cancer DriveLine Society drivers, provided the kind reliable service she needed. She is very grateful as well for the positive attitude and support of the BC Cancer Agency staff and other patients. Earl, one of the BCCA volunteers offered a word she repeats to herself even now- "It's the first day of her new life". She feels lucky to have a second chance at life. As well, she said "the support I received from family and friends made a huge difference to my ongoing recovery."
When asked the source of her positive outlook, she said she "loves life," doesn't dwell on the negative but rather likes to "focus on the future", considering any problem "a bump on the road." J. feels she "is a better person" for having had cancer, allowing her to develop patience, perseverance and acceptance.
Not one to think for long about the negative, she believes in getting on with life; in fact, throughout her treatment she's been working on a Medical Transcription course online, with 3 months left to go. Having had experience with computers since 1986, J. uses a screen-reading program. Her treatment is finished now, but she still gets quite tired and does confess to being 'done' by 7 pm.
Advice she has for anyone facing a cancer diagnosis- " the biggest challenges are psychological ones-
"don't deny the diagnosis"-only delays treatment-; "be honest with your family friends and yourself; accept help that is offered from those who care for you." Fido is relaxed now and no longer is concerned enough to sniff her!!